Owen Connolly was born in 1820 in the town of Donagh, County Monaghan, Ireland. He came to Prince Edward Island in 1839 at the age of nineteen. He was one of the thousands of Irish immigrants, chiefly from the County of Monaghan, to arrive on Prince Edward Island ... read more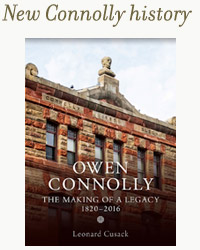 Find out more about the fascinating Connolly history, through this new publication by Leonard Cusack Owen Connolly: The Making of a Legacy 1820-2016.

Next deadline to apply for the Owen Connolly Estate Bursary:
August 31 of the current year
NEW! Apply online for the Owen Connolly Estate Bursary
Online or in print, all required materials must be received, by this date. Late or incomplete applications will not be considered.